WELCOME TO OUR FACTORY & BEE FARMS
Ban Me Thuot Honeybee JSC was established in 2005, we have been in the field of Apiculture since 1990, we produce some finished products from Honey and bee pollen for local markets, we also process raw honey for exports.
Our factory located in outskirts of the city with an area of 8,000 square meter in which 2,000 square meter is storage area. The factory achieves the standards of warehouse hygiene to produce honey for exports.
Our products assure quality and food safety hygiene and other international standards and rules.
Our Honey has been exporting to U.S, EU, Korea, etc...
We offer various types of Honey, such as: Lychee Honey, Longan Honey, Acacia Honey, Rubber Honey, Coffee Honey, Multi-flowers Honey.
We can supply Honey to Clients all year round with quantity of 4,000-5,000 MT.
Here are some pictures of our office & bee farms.
Our Factory:
at No 52,
Hamlet 19, Hoa Khanh Commune, Buon Ma Thuot City, Dak Lak Province, Sr. Vietnam
The factory meets GMP standard
The factory uses renewable enegry
Lab & Sample room:
Lab & Sample room
Our Facilities: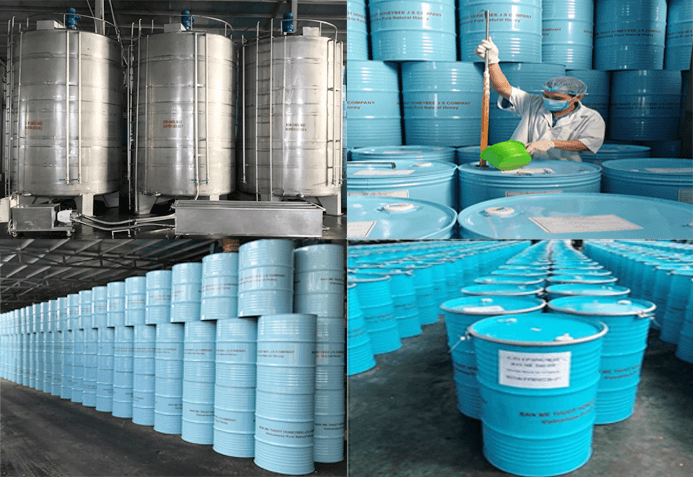 Our facilities
Types of honey:
Coffee Honey, Rubber Honey, Acacia Honey, Longan Honey,
Lychee Honey, Multi-flowers Honey

Finished products:
| | |
| --- | --- |
| | |
| Raw Honey | Royal jelly with honey |
| | |
| --- | --- |
| | |
| Yellow & Black Curcuma Honey | Royal Jelly |
| | |
| --- | --- |
| | |
| Bee Pollen | Raw honey for export |
Loading goods on container: